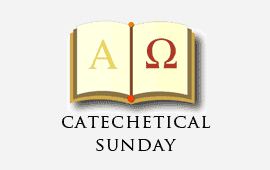 USCCB Resources
2018 THEME
Previous Themes
September 16, 2018
Theme: "Enlisting Witnesses for Jesus Christ"

Throughout the Diocese of Superior, those whom each parish community has designated to serve as catechists will be called forth to be commissioned for their ministry.

Catechetical Sunday is a wonderful opportunity to reflect on the role that each person plays, by virtue of Baptism, in handing on the faith and being a witness to the Gospel. Catechetical Sunday is an opportunity for all to rededicate themselves to this mission as a community of faith.

IMPORTANT:  On this day, please mention the fact that parents are truly the primary catechists of their children.

They prepare the soil and plant the first seeds of faith. On Catechetical Sunday, we not only highlight the work of catechists in parishes and schools, but we also commend parents and guardians and encourage them to take seriously their role of making their Catholic households a place where faith is passed on to the next generation. This is why the rite of blessing of catechists used on Catechetical Sunday includes an optional blessing of parents and guardians.